Step 4 –

Keywords & Money

What Is A Keyword?

Keywords are considered the text you enter into the search bar when using Google, Bing, Yahoo or other search engines (fields).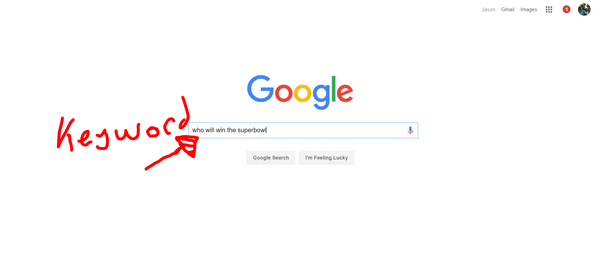 Press Enter and get your results. Simple enough…
Now imagine hitting Enter and finding YOUR website pop-up within the first page of Google. How cool would that be?
One way to get on the first page of Google (or any page) is through the use of keywords.
Your Business & Keywords
Something that Wealthy Affiliate does an excellent job of teaching and also puts a lot of emphasis on is, you guessed it, keywords.
You can pursuit any keyword you like, at the same time I think this is where a lot of people who manage a website or business online come up short. They are finding keywords with too much competition and/or are saturated.
Not to toot my own horn, but my second article ever posted online found it's place on the first page of Google in the #1 position only minutes after being published. It's no longer in the #1 position but still brings in traffic and holds it's own at the #3 spot.
I haven't touched that article in almost 9 months and it still brings in visits. Gotta love online business!
Why am I sharing this?​
Because less than a year ago I didn't know anything about keywords, website ownership, affiliate marketing, none of it.
But by following WA's training, I somehow managed to have my website appear on Page 1 of Google!
​Here's one term you've may or may not have heard related to keywords…low hanging fruit.
Low-Hanging Fruit
Regardless of which niche you have selected there's a plethora of keywords available to you.
Low-hanging fruit literally targets keywords that have some traffic and not a lot of competition. When first starting out it only makes sense to go after keywords with little to no competition. It's a sure way to get your website ranked into Google and the other search engines.
If you go after keywords with A LOT of competition you hurt your chances of being ranked. What good is writing article after article if it only ends up on the backend of Google searches?
The general rules of keyword research:
Competition: Under 300 QSR (quoted search results – the number of EXACT competing pages within search engines)
Search volume: At least 50 monthly searches
Most importantly: Make sure the keyword makes sense. Say it aloud and ask yourself if it sounds right, if not then don't use it.
Watch this video on low hanging fruit for a better understanding.
How To Apply Keywords
It's quite simple really :).
For each page or post you you add, you will be targeting ONE keyword.
Let's say your keyword is "how to jump higher".
Put the keyword "How To Jump Higher Instantly" within the title.
You may have noticed I added "Instantly" within the title, this is to make the title more interesting so people will click on it.
Next step is to add the keyword within the first paragraph of that page or post.
Whether you are into basketball, football, or baseball there are many exercises you can start doing today that will teach you how to jump higher.
That's it!
This is a method that has been proven to work time and time again, there is no need to stuff keywords.​
Note: the keyword "how to jump higher" currently has:
Monthly Searches: 4608 – Excellent
Estimated Incoming Traffic (If ranked Page 1 in Google): 784 – Excellent
Competition: 250 (competing websites) – Bad
I wouldn't waste my time with this particular keyword due to all the competition.
​See how I came up with these results here!
After learning how to identify the right keywords and apply them to your site properly with great content, you will rank in Google (Bing, Yahoo, etc.).
This brings in visitors to your site which leads to earnings.
More visitors = More opportunity!
Today's Tasks!
2 days from now is Step 5. We will be discussing how to Avoid Failure and also our last step. Way to go for making it this far!
Remember actions are what lead to results. Keep moving forward!
Chat Soon!
– Jason
{tcb_current_year} Thrive Landing Pages. All rights Reserved | Disclaimer